Hurun: Wanda breaks into China's most valuable private brands list
Jul 25,2013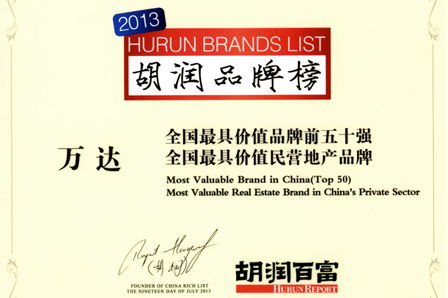 The Wanda Group ranks as the 8th most valuable brand in China's private sector, according to the 2013 Hurun Brands List released by the Hurun Research Institute on July 22.
It is the first time Wanda has broken into the coveted top 10 spot. The brands listed are also among some of China's Top 50 Most Valuable Brands.
The slowdown of the Chinese economy has put pressure on all industries, especially the real estate sector, which is facing tight policy control and losing development momentum. However, the Wanda Group outperformed with total revenue of 74.5 billion yuan in the first half of the year and expects annual revenue to reach 180 billion yuan.
The Hurun brand list, compiled annually by the institute since 2007, this year includes 98 brands created by private companies, 94 brands owned by State-owned enterprises and 8 foreign held brands.