Huangshi Wanda Plaza breaks ground
Sep 06,2013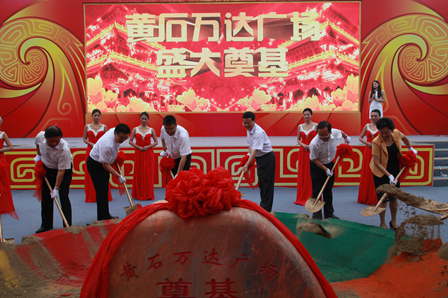 Wanda Group held a groundbreaking ceremony for its Huangshi Wanda plaza in Central China's Hubei Province on September 4.
Hubei Vice Governor Guo Shenglian announced the start of the construction at the ceremony. Other officials including Huangshi Party Secretary Zhou Xianwang, Mayor Yang Xiaobo and Municipal CPPCC Chairman Guo Yuandong, as well as Wanda Commercial Properties Vice President Yu Xiuyang, attended the ceremony.
Situated to the south of Huahu Avenue in Huangshigang District, the plaza will become large and international urban complex combining a large shopping center, five-star hotel, international office building, outdoor pedestrian street and high-end residential buildings.
The Huangshi Wanda Plaza is among the most important investment projects of the city. Upon completion, the plaza will become Huangshi's prominent business center and promote the regional economic development.