Wanda launches 10-year Plan to Support Graduate Employment
Sep 08,2013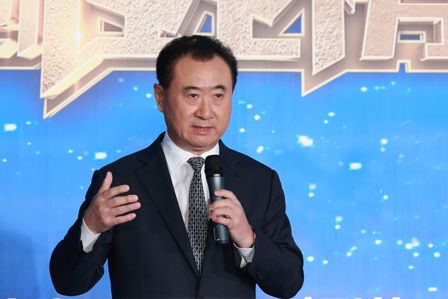 Wanda Group Chairman Wang Jianlin announces the 10-year Plan to Support Graduate Employment.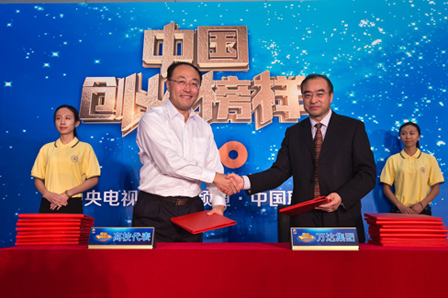 Wanda Group Vice President Yin Hai (R) signs the contract with a university representative on behalf of the Wanda Group.
The Wanda Group launched a 10-year plan on September 7 to boost college graduate employment and alleviate the pressure of a tight job market on graduates.
According to the plan, from 2013 to 2022, the Wanda Group will recruit 80,000 college graduates while the Group's businesses will create a total of 300,000 vacancies for graduates. It will help 1,000 graduates to start businesses with a 500-million-yuan fund and at least 500 Wanda Plaza shops.
Solving College Graduate Employee Problems
Employment is a crucial factor in each individual's livelihood and is something that concerns society as a whole. Wanda Group has put boosting college graduate employment as its top social responsibility. In the past five years, Wanda Group ranked first among Chinese companies in creating employment opportunities for college graduates. Among the 449,000 new jobs provided by Wanda Plazas in the past five years, 129,000 went to college graduates. To relieve pressure on 2013 university graduates, Wanda Group has ordered its subsidiary companies to increase college recruitment by 10% this year to make the total number reach 8,000.
According to statistics from the Ministry of Human Resources and Social Security, Chinese colleges churned out a record 6.99 million graduates this year amid a receding economy. It is estimated that about 3 million graduates will be unable to secure a job this year. Wanda Group, which is quickly expanding its businesses in China and around the world, has decided to alleviate this severe situation. It will recruit more than 8,000 college graduates annually and plans to employ 80,000 in the following ten years. Wanda opens more than 20 plazas, a dozen five-star hotels and several cultural tourism projects every year, which will also create nearly 30,000 job vacancies annually for college graduates and 300,000 vacancies in 10 years. Wanda Group is engaged in developing commercial properties and cultural tourism projects, providing stable and high income service sector jobs, making it an ideal company for graduate job-seekers.
Spare no expense in supporting college student entrepreneurship
Seeking employment for college students is already difficult and starting a business is even more so. According to statistics, only 1% of university graduates in China decide to become entrepreneurs. Beginning from 2014, Wanda Group will invest 50 million yuan in 100 fresh college graduates. Each will be given the chance to establish their own business in one of 50 Wanda mall retail outlets across China. In 10 years Wanda will increase the number to 500 outlets for 1000 students and invest 500 million yuan. The initial candidate selection will take place in 2013 at a number of universities including: Peking University, Tsinghua University, Fudan University, Tongji University, Zhejiang University, Wuhan University, Sichuan University, Xi'an Jiaotong University, Dalian University of Technology and Zhongshan University.
Wanda Group will employ the following measures to ensure the success rate of new businesses: 1. meticulously choose industries more suited to university graduates such as lifestyle services and food and beverage. 2. Wanda will prohibit any retail outlet in a competing industry to join Wanda Plaza's where college entrepreneurs' are operating. 3. Wanda will establish a special entrepreneurship assistance department and staff the department with experts that are qualified to assist students. Wanda Plazas are prime pieces of real estate with much sought after retail space, which is why we believe with excellent resources and professional training, Wanda's college graduate entrepreneur initiative can achieve great success.
"Wanda has set up a foundation run by experts that provide specific services to college entrepreneurs in order to better support them and improve their chances of business success. If the Wanda program is able to develop a handful of first-rate franchise entrepreneurs within the next 10 or 20 years, then this program will have already achieved success," said Wanda Group Chairman Wang Jianlin.