Wang Jianlin in spotlight at Summer Davos
Sep 12,2013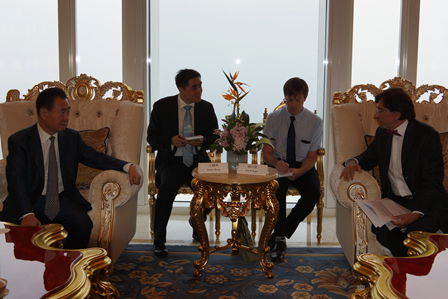 Wang Jianlin meets with the Prime Minister of Belgium.

Wang Jianlin attends the CCTV Business Channel Breakfast Meeting.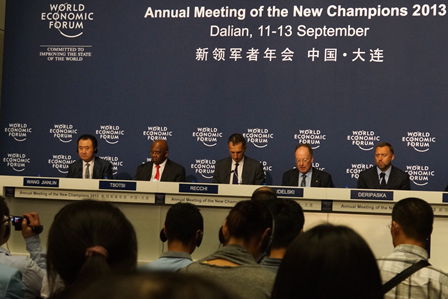 Wang Jianlin attends the Mentor Press Conference.
Wanda Group Chairman Wang Jianlin attended the Annual Meeting of the New Champions 2013 on invitation.
The event, also known as Summer Davos, opened in Northeast China's port city of Dalian on September 11 and will run through September 13.
Wang was just named by Hurun's latest rich list as the Chinese mainland's wealthiest with his personal fortune of 135 billion yuan ($22bn) on September 11.
Also a mentor for this year's Summer Davos, he has been in the media spotlight throughout the first day of the event.
At 7:15 in the morning, he has already arrived at the Dalian Wanda Hilton Hotel to attend the CCTV Business Channel Breakfast Meeting, a warm-up for the Summer Davos. It features interactive discussions by four heavyweights and attracted a dozen of Chinese and foreign media.
A total of 14 media applied for the interview with Wang Jianlin to be held later in the morning. However, 28 media swarmed the room when the interview starts at 9:40.
During the day, Wang also met with the Belgian Prime Minister, Bulgarian Prime Minister, World Economic Forum Founder Dr. Klaus Schwab, and the Finnish Prime Minister. He also attended the Mentor Press Conference and a close-door meeting of mentors in the afternoon and the opening ceremony of this year's Summer Davos in the evening.
"If I didn't see it with my own eyes, I'd never believe how busy and efficient he is," said a journalist at the forum.