Wang Jianlin: The future of world film market is in China
Sep 22,2013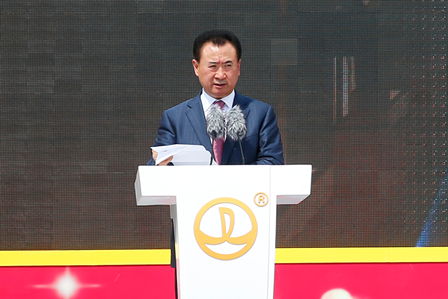 Following is the speech made by Wanda Group Chairman Wang Jianlin at the launching ceremony of the Qingdao Oriental Movie Metropolis.
Deputy Chief Tong Gang, Secretary Li Qun, Mayor Zhang Xinqi, Ms Cheryl Boone Isaacs, Mr Hawk Koch, Ms Dawn Hudson, Mr Leonardo DiCaprio, film stars, and officials of production companies and talent agencies:
On this beautiful sunny day, we are gathered here for the launching ceremony of the Qingdao Oriental Movie Metropolis. On behalf of more than 90,000 employees of Wanda Group, I would like to first express our warm welcome and heartfelt appreciation to all of you!
Occupying an area of 3.76 million square meters and a total construction area of 5.4 million square meters, Qingdao Oriental Movie Metropolis incorporates a film and television industrial park, a film museum, a film and television celebrity wax museum, a film exhibition center, Wanda Cultural Tourism City, car limit show, seaside resort hotels, a yacht club, a seaside bar street, an international hospital, and residential areas. With a cultural tourism investment of 30 billion yuan, it is a film and television industry project with the world's largest investment as well as the world's only super large film and television project that combines comprehensive film and television shooting, film and television production, film and television exhibition, and film and television tourism functions. Qingdao Oriental Movie Metropolis will revolutionarily improve the level of cultural industry in Qingdao, greatly upgrade the level of tourism in Qingdao, and even transform Qingdao's positioning to turn it into a city of global film and television cultural tourism.
Qingdao Oriental Movie Metropolis is a major measure to implement the national policy of building a cultural power, a major strategy for Wanda's cultural industry development, and a major attempt to create China's global cultural brands. Once its first phase is completed in June 2016 and get the approval of the government departments, Wanda will host Qingdao International Film Festival with full support from the State Film Administration, Qingdao Government, China Film Association, AMPAS, and the world's top four talent agencies CAA, WME, UTA, and ICM. Wanda has the confidence and ability to elevate Qingdao International Film Festival to the world's top five international film festivals within three to five years, thereby changing the status quo of China's lack of global film brands.
Based on my conservative estimate, China's film box office revenue will surpass North America's by 2018 and will double it by 2023. It can be said that the future of the development of the world film market is right here in China. I am able to put it this way both because of China's 1.3 billion gradually affluent population and because of the annual industry growth rate of over 4,000 quality movie screens. Those in the world film industry who realize this first and are among the first to cooperate with China will be the first to reap the benefits.
Here I would like to express my thanks to the State Administration of Radio, Film and Television for its support for this project, and to the party committee and government of Qingdao for their great support. I especially would like to thank Ms Isaacs, Mr Koch and Ms Hudson. Thanks to them, for the first time in 86 years AMPAS has decided to throw its support behind Wanda in hosting an international film festival outside the United States. I would also like to express my thanks to the top four entertainment talent agencies CAA, WME, UTA and ICM, and to 索尼 Pictures, Warner Bros. Entertainment, Universal Studios, Paramount Pictures, Lionsgate Films, and The Weinstein Company for their support. I would also like to thank Mr. Leonardo DiCaprio and all celebrities for your coming here to attend the ceremony.
Thank you all!