Wanda announces incorporation of UK property development subsidiary
Oct 14,2013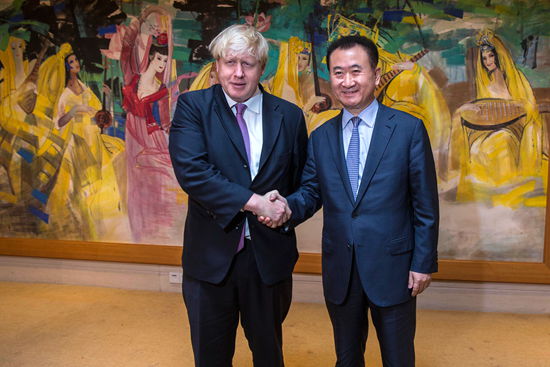 Wanda Group Chairman Wang Jianlin and visiting London Mayor Boris Johnson pose for a photo.
The Wanda Group announced the successful incorporation of its UK property development subsidiary Wanda One (UK) Limited ("Wanda One") on October 14.
Wanda One is responsible for the development of the One Nine Elms project, Wanda's London hotel and residential development. Wanda One has an immediate requirement to recruit 10 permanent employees. Furthermore, the company's future headcount is expected to increase materially along with the development's progress on site.
Once Wanda's London hotel is operational, the scale of the hotel management company's operations will result in a further 350 direct permanent employment opportunities.
In addition to creating an estimated 360 jobs, Wanda's investment in the One Nine Elms development is expected to have a wider beneficial impact on the London economy, including the creation of a significant number of indirect employment opportunities at suppliers, contractors and consultants as well as income tax payments by Wanda's UK subsidiaries.
Wanda Hotel development to be the first Chinese luxury hotel overseas
On June 19 2013, Wanda announced the company will build a five-star hotel in London, which will be the first luxury hotel opened by a Chinese firm overseas.
The new Wanda hotel, part of Wanda's One Nine Elms development, is located at a prime location on the South Bank, with stunning views overlooking the River Thames and iconic local landmarks The Palace of Westminster and Battersea Power Station. The Wanda development project will become a new London landmark upon construction completion and act as a catalyst for the regeneration of the entire Vauxhall Nine Elms area.
Wanda Group Chairman Wang Jianlin remarked, "The development of our first overseas luxury hotel in London as part of our development of the One Nine Elms site is an exciting opportunity for our company. Furthermore, we are very optimistic about the benefits which our investment operation can bring to London and the wider UK economy."
The Mayor of London, Boris Johnson, said: "London is the best big city in the world to invest in and I am delighted that Wanda intends to follow up their £700m investment in Nine Elms by creating more than 300 new jobs and basing what will effectively become their European Head Quarters in London."