Wang Jianlin meets with Party Secretary of Jiangxi Province
Feb 12,2014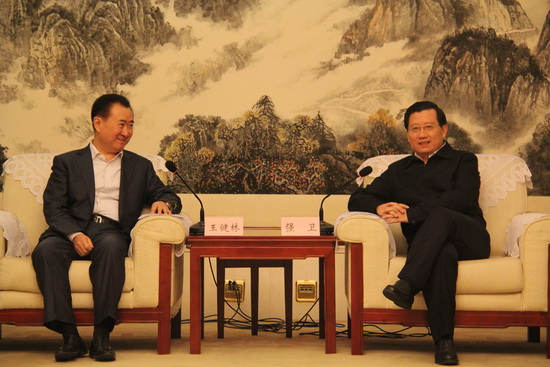 Wanda Group Chairman Wang Jianlin held talks with the Party Secretary of Jiangxi Province Qiang Wei and other senior government officials in Nanchang from February 10 to 11.
Both sides reached a consensus on strategic cooperation to expand investment in Jiangxi Province.
During his visit in Jiangxi, Wang met with Nanchang Municipal Party Secretary Wang Wentao, Nanchang Mayor Guo An and Executive ViceMayor Zhang Hongxing as well as other officials at the Nanchang Wanda Realm Hotel.
On the morning of the 11th, the chairman was taken on a guided tour of theexhibition center of the Wanda Cultural Tourism City project and gave his assurance on the facility's tasteful interior design and state-of-the-art electronic sand box. Lastly, Wang visited hotel and new tourism city project sites.