Wanda holds fundraiser for leukemia suffer
Feb 17,2014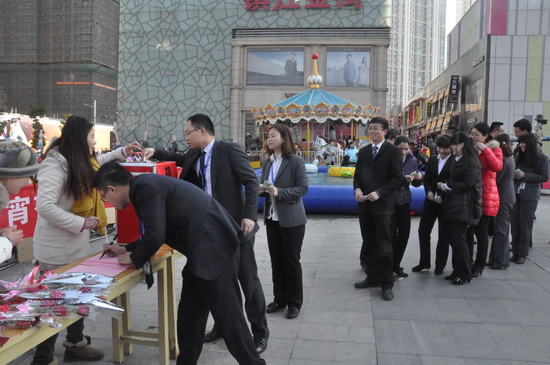 Employees at Wanda Business Management Company in Jiangsu Province's Zhenjiang city held a fundraiser for leukemia sufferer Li Yuan outside the local Wanda Plaza on February 14.
21-year-old Li Yuan, who comes from an impoverished family, was diagnosed with leukemia in December 2013. Li Yuan was hit with the disease shortly after beginning her first job and hadn't even passed her probationary period before she was hospitalised.
After learning of Li Yuan's illness, staff at Wanda's Business Management Company set up a stall to sell Valentine's Day roses outside the Zhenjiang Wanda Plaza. All sales of the roses will be donated to Li Yuan.
Volunteers promoted the event with vigor and received an extremely positive response from the public as a result.